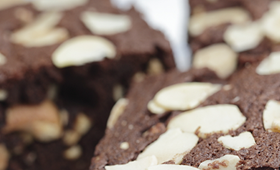 A delicious combination of peanut butter and Sweet William plain chocolate.
Prep/Cooking time – 35 minutes
Ingredients
125g margarine (lactose free)
¼ cup brown sugar
1 cup peanut butter
1 egg
1 cup flour (gluten free 4 mix flour)
1 teaspoon baking powder (gluten free)
Method
Melt butter, brown sugar and peanut butter in a saucepan large enough to mix all the ingredients.
Add egg and beat with a wooden spoon to combine.
Sift flour and baking powder into the saucepan.
Mix well until combined.
Pour into an 18 x 28cm slice tin.
Bake at 180ºC for 20 minutes.
When cold, ice with melted chocolate.
To melt chocolate break into pieces and using a microwave proof glass jug heat on high for approx 1 minute.
Notes
Gluten free flour is a mixture of four flours (soy, rice, cornflour and tapioca).
No lactose intolerance normal butter or margarine can be used. To reduce the sugar content peanut butter can be purchased with no added sugar.