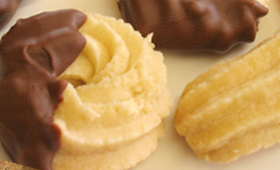 Viennese Chocolate Fingers
Classic and classy – these never fail to impress.
Prep/Cooking time – 1 ½ hours
Serves – 20 biscuits
Ingredients
1 cup margarine (lactose free)
6 tablespoons caster sugar
1 teaspoon vanilla essence
½ teaspoon salt
2 cups plain flour (gluten free)
4 tablespoons cornflour
Method
Preheat oven 190°C.
Lightly grease 2 baking trays.
Beat margarine, sugar, vanilla essence and salt in a mixing bowl until light and fluffy.
Gradually beat in the sifted flour and cornflour.
Place the mixture in a piping bag fitted with a large star nozzle and pipe fingers about 5 cm long or in a circles on the baking tray allow for spreading.
Bake in oven 12-15 minutes.
Leave to cool completely.
Melt chocolate and dip ends to coat.
Leave on wire rack to set.