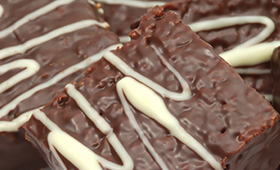 A slice that is perfect as an after dinner treat – Sweet William chocolate and peppermint.
Prep/Cooking time – 40 minutes
Serves – 12-16 pieces
Ingredients
Base
1 ¼ cup plain flour (gluten free)
½ tsp baking powder (gluten free)
¼ cup cocoa powder
½ cup caster sugar
1 egg lightly beaten
140g margarine melted (lactose free)
Filling
¼ cup cream (optional)
2 teaspoons vegetable oil
2 cups icing sugar (pure)
Peppermint essence to taste
Topping
40g margarine (lactose free)
Method
To make base-sift flour, baking powder, cocoa into a bowl.
Add sugar and egg.
Melt margarine and add to dry ingredients and mix through.
Using a slice tin sprayed or lined, spread base evenly over and cook until firm at 180°C.
In a saucepan combine icing sugar, oil and cream (optional) and heat gently until runny.
Add drops of peppermint essence to taste.
Once base is out of oven pour over peppermint mixture and allow to set completely.
For topping put chocolate into a microwave proof dish or jug and heat for about 1 minute or until chocolate is runny.
Stir in margarine and if chocolate starts to set put back into microwave for 30 seconds to keep hot.
Spread while hot over peppermint topping.
Put into fridge to set completely and slice into desired pieces.