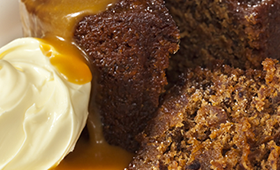 Delicious & simple pudding of ginger & Sweet William Chocolate w/ a creamy chocolate custard
Prep/Cooking time – 1 hour
Serves – 4
Ingredients
Pudding
100g soft margarine (lactose free)
100g plain flour (mixture 3 flours was used – maize, tapioca and rice) (gluten free)
Baking powder (gluten free)
100g caster sugar
2 eggs
25g cocoa powder – sifted
50g of ginger – Buderim ginger thinly sliced and chopped up into tiny pieces
Chocolate Custard
2 egg yolks
1 tablespoon caster sugar
1 tablespoon cornflour (gluten free)
300ml milk (lactose free)
Method
Lightly grease 4 individual pudding basins.
Place margarine and sugar in a bowl and mix until light and fluffy.
Add one egg at a time mixing well.
Chop the chocolate and ginger and stir into the mixture.
Add sifted cocoa and flour and mix until combined.
Spoon the mixture into the prepared basins and level the tops.
The mixture should fill the basins.
Cover puddings with a piece of foil wrap and using a rubber secure to the pudding basins.
Steam for 45 minutes, until puddings are cooked and springy to the touch.
Meanwhile to make custard beat together egg yolks, sugar and cornflour to form a smooth paste.
Add lactose free milk and stir until mixture thickens.
Remove from the heat, add the chocolate and stir until the chocolate melts.
Lift the puddings from the steamer, run a knife around the edges of the basins and turn out on to a serving plates.
Drizzle chocolate custard over and serve with extra thinly sliced ginger.