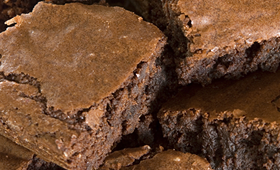 A scrumptious slice that is easy and quick to make, a great little addition to the lunchbox.
Ingredients
225g sweet biscuits crushed (gluten free)
75g margarine (lactose free)
2 tablespoons golden syrup
½ cup dates finely chopped
50g coconut
75g sultanas
Method
Line an 18cm square shallow cake tin with baking paper ensuring that paper extends over sides.
Put the biscuits in a plastic bag and crush roughly with a rolling pin.
Gently heat the margarine and syrup in a small saucepan until the margarine has melted.
Stir in the crushed biscuits, dates, coconut and sultanas and mix well.
Spoon into the prepared tin, press flat with the back of a spoon and chill for one hour.
Melt the chocolate in a heatproof microwave container – takes 2 minutes.
Spoon over the mixture, spreading evenly with a knife.
Chill until set.
Lift out using the sides of the baking paper and peel away paper.
Cut the date crunch slice into 24 pieces and arrange on a plate.