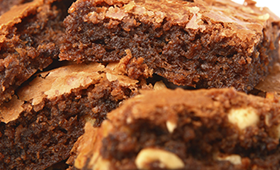 Combining Sweet William chocolate and walnuts for a simple and tasty slice.
Prep/Cooking time – 35 minutes
Serves – 36 squares
Ingredients
½ cup chopped dates
½ cup water
1 cup plain flour (gluten free)
1 tsp baking powder (gluten free)
½ cup brown sugar
½ cup walnuts – chopped
¼ cup skim milk (lactose free)
Method
Bring dates and water to the boil in a saucepan.
Reduce heat.
Simmer until pureed.
Transfer to a large bowl.
Add all other ingredients except chocolate.
Break chocolate into pieces and place in a heat proof microwave jug.
Cook on high for one minute until chocolate is runny.
Blend chocolate into the mixture and mix well.
Pour into a greased and lined 18 x 28cm slab tin.
Smooth top.
Bake in a moderate oven at 180ºC for 20 minutes or until firm when touched.
Allow to cool.
Cut into small squares.
Notes
For this recipe the following mixture of flours were used cornflour (maize starch), rice flour, soy flour, tapioca starch.
If not lactose intolerant than normal milk can be used.